---
---
Style, provided you have any in the first place
Posted by
Gizmo
on January 29, 2008 :
---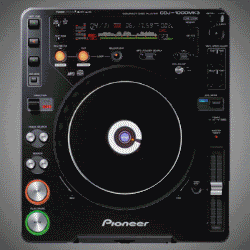 DJ gear is largely uninspiring to look at. No matter how many Christmas light-esque LEDS manufacturers add to successive releases, they're usually sharp edged and crushingly dull with their not at all interesting Black, Grey or Silver stylings. Some efforts have been made to add different faceplates with fixed designs to CD decks and mixers (ironically Black to replace Silver etc). But now
Styleflip
offers almost unlimited creative freedom via a pretty spiffy on-screen Flash designer to do all manners of graphic nastiness to your gear. But don't worry - it's not permanent so the Hello Kitty phase you went through needn't be with you forever.
The Styleflip product is a custom printed hi res vinyl film with a tough clear coating, cut out to match your products controls. You get to decorate it from a range of preset logos, fills, patterns and all kinds of crazy pictures. You can even upload your own designs to create a truly customised setup.
Sod's Law dictates that while having a wide range of decks, mixer and other assorted boxes available for customisation, they don't do a single one that I own. So hopefully one of you brave souls will take the plunge and give them a go and report back.
Here's a couple I prepared earlier which will show why it's a really crap idea for me to have this done at all....
---
---
---
---